A favourite rice noodle pan you could prepare dinner with any inexperienced greens you could have
If you've sent me a message this week after posting a poorly lit photo of an exceptionally tasty pan dish on Instagram, this is 100% for you! It is the type of pan dish that I often pull together, a panacea that needs to be used up. They have silky rice noodles, light and crispy broccoli, roasted cashew nuts, quickly marinated crumbled tofu, and fried onions tossed in a lively soy sauce with chili boost. I added mushrooms the second time (for these photos) but you don't have to. I used broccoli but you can use asparagus, Brussels sprouts or kale. I'll talk more about that below. I definitely tend to do what you're not supposed to do here – overload the pan – but it's the kind of one-pan meal I love. Enjoy!
A few things before we get to the recipe. If you make a lot of pan dishes, you should invest in a wok. The cast iron wok that I bought with Grace Young at the Wok Shop in San Francisco years ago is one of my coveted cooking vessels (this is one). It's the way Cantonese home cooks swear by to convey the coveted taste of wok hay. I'm not saying I'm still there, but I'm striving for it. And if you don't have a wok, don't let that stop you – grab your biggest pan and use it for your pan dishes.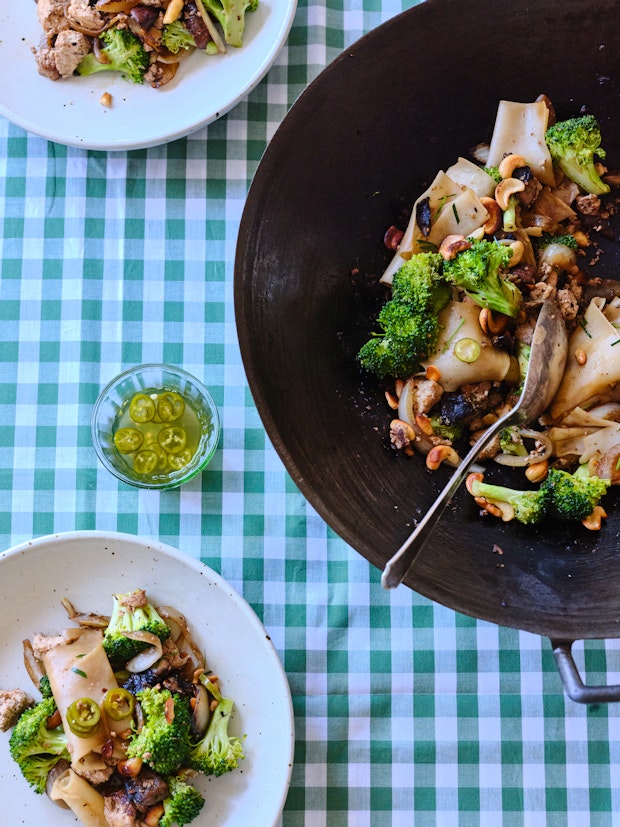 Fry some variations while stirring
Most of it will be included in the top notes of the recipe.
Green vegetables: I am writing this recipe with broccoli as a green vegetable, but you have many other options. Use an equivalent amount of asparagus (1 1/2 inch segments) or 4-5 large handfuls of chopped kale, pre-cooked artichoke hearts are fair game or peas (or pea sprouts!). Do you see where I'm going? All of this is really adaptable based on what you have on hand.
Make it a little creamy: A dash of coconut milk towards the end is nice.
Citrus fruits are good: One of my favorite finishing touches here is to throw something citrus in at the end. I have a macrut linden tree on the terrace, so I often splinter a few sheets of paper and add them at the end. Lemon peel, Meyer lemon peel and / or orange peel are also welcome here. Completely not necessary, but it's really a nice touch.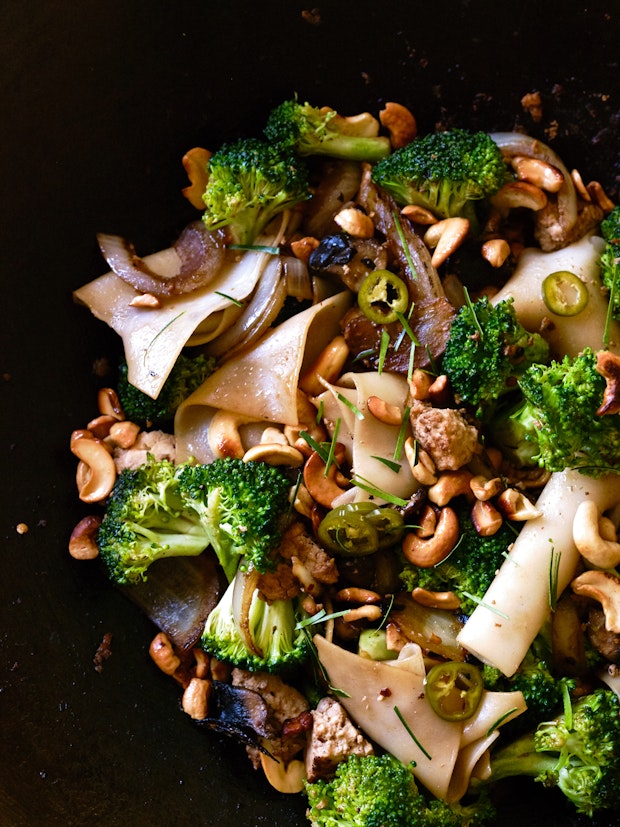 Cooking against soaking the pasta
I'll let you cook the noodles here to get just the right amount of tender. It's what I did to get dinner on the table quickly the other day, and it works great. The usual alternative is to soak them, but there is such a wide selection of pasta, and I'm sure you'll all use a whole bunch of them. I think cooking is the safest choice for consistency across the board. Depending on the pasta, the soaking technique sometimes doesn't work and you still cook it.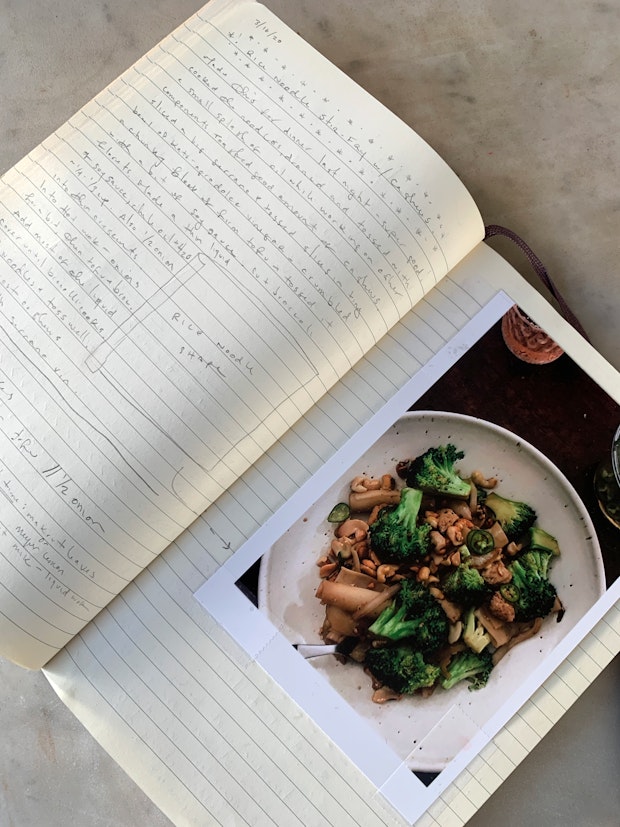 Here is the photo I recorded in my recipe journal, along with instructions on how to do it the other day after dinner. I do this when I want to remember something I liked so that I can do it again sometime. You can see the size of the pasta I'm using (left side), and I also like to leave notes next time (below in the corner) – ways to optimize, flavors or ingredients to add or explore, etc. Enjoy!