These banoffee pie bites have all of the pieces of a good dessert. Sweet caramel mixed with real banana slices and a buttery crunchy graham cracker crust. This whole-food dessert is incredibly tasty, but not so sugary that you feel blah after you eat it!
What is banoffee pie?
Banoffee Pie is a fantastic dessert made with dulce de leche, bananas and whipped cream. It was originally made in Sussex, England, and called for a traditional pie crust, homemade dulce de leche, and coffee-flavored whipped cream.
I changed the recipe a little to make it more kid friendly and a lot less sugar. This recipe uses a graham cracker crust, date caramel, and lightly sweetened whipped cream.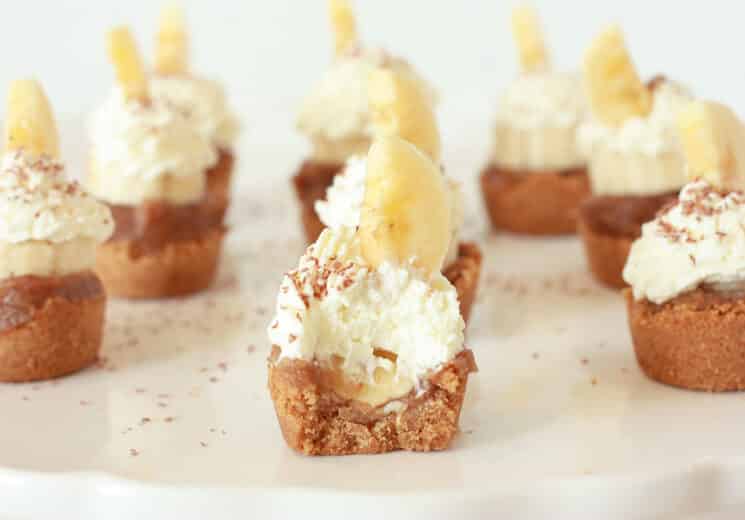 How to make date caramel
Date caramel is really easy to make. You should make sure your dates are fresh – the softer the better! You simply mix your dates with some milk, vanilla, and a pinch of salt until they are smooth and creamy. That's it!
Date caramel is sweet and tasty, but what I love most is that the dates can provide a rich sweet caramel flavor AND fiber, as well as other vitamins and minerals.
Can I advance and freeze?
Unfortunately, you shouldn't freeze your banoffee pie bites. Bananas do not freeze and thaw well and this is one of the main ingredients of the dessert.
You can freeze the graham cracker crust and date caramel! You can put this part of the dessert together and then add the banana and whipped cream when you are ready to serve.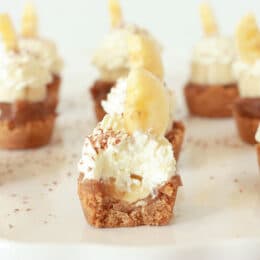 crust
1 Cup Graham cracker crumbs (approx. 8 full sheets) 4th tablespoon melted butter
filling
16 everyone Medjool dates, pitted1/2 TL Salt-1 TL Vanilla extract3/4 Cup milk can add up to 1/4 cup more if needed
Topping
2 medium Bananas, sliced1 Cup Whipped cream The thicker the better1/2 Cup Chocolate shavings Optional
crust
Preheat oven to 350 F.
In a food processor, add graham crackers and legumes until fine crumbs have formed and all of the pieces have crumbled. Add melted butter and legumes until combined.
Add 1 tablespoon of the mixture to each mini muffin bowl. Press firmly on the bottom and sides until a crust has formed. Bake 6 to 8 minutes or until firm.
filling
Put all ingredients in a food processor and mix until the mixture is smooth and no pieces of dates can be seen. Add more milk, 1-2 tablespoons at a time if the mixture is too thick.
Spoon 1-2 tablespoons of the caramel mixture into each graham cracker cup. Place a slice of banana on top of the caramel.
Topping
Pour whipped cream onto each banoffee cup. Sprinkle with chocolate shavings and add half a banana slice vertically to the whipped cream as a side dish. If you don't serve right away, wait until the last slice of banana is ready to serve to avoid browning.