Gluten-free chocolate cake
Let this healthier take on the decadent chocolate cake surprise you with a surprising ingredient that makes all the difference!
Baking with quinoa
This gluten-free chocolate cake challenges a lot of what we think we know about cakes. There is no such thing as regular flour at all, but it has an unusual ingredient … quinoa! I'm sure you had quinoa in a salad or a side dish, but I suspect you never considered it a dessert ingredient. Here it takes the place of flour and gives this cake a moist, fluffy texture. Who knew?
Some recipes may call for quinoa flour. In this recipe, you're actually using whole cooked quinoa and mixing it with your other ingredients. Quinoa is known for its high nutritional content – protein, fiber, and B vitamins. What it's less well known is its ability to create amazing texture in baked goods.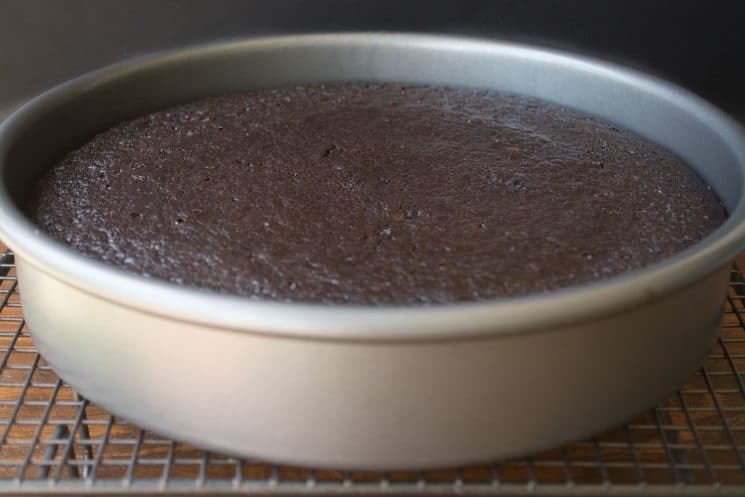 Whipped frosting
I frosted this cake with a whipped cream, but you can use any frosting recipe you like. You can even beat coconut cream like milk cream for a vegan version. Whipped cream frosting is a lot lighter than regular buttercream and also requires a lot less sugar! I think it's the perfect addition to that chocolate cake.
You can lighten this dessert even further by leaving out the frosting entirely and just dusting the cake with powdered sugar or topping it with seasonal fruits like fresh berries. Either way, this recipe is a keeper! I expect you will be great friends, family and guests for many years to come!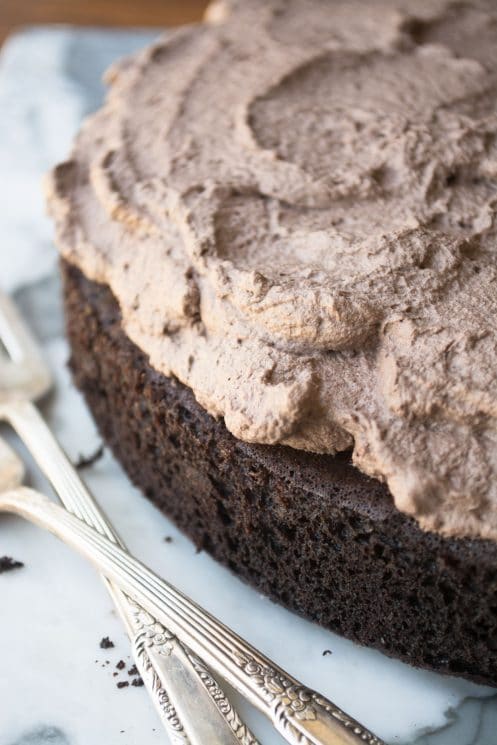 This cake was a hit with all of my taste testers, they all devoured it and they had no idea there was anything unusual in the ingredient list until I told them. I recommend giving it a try even if you are skeptical. I've made it several times and it always turns out wonderfully.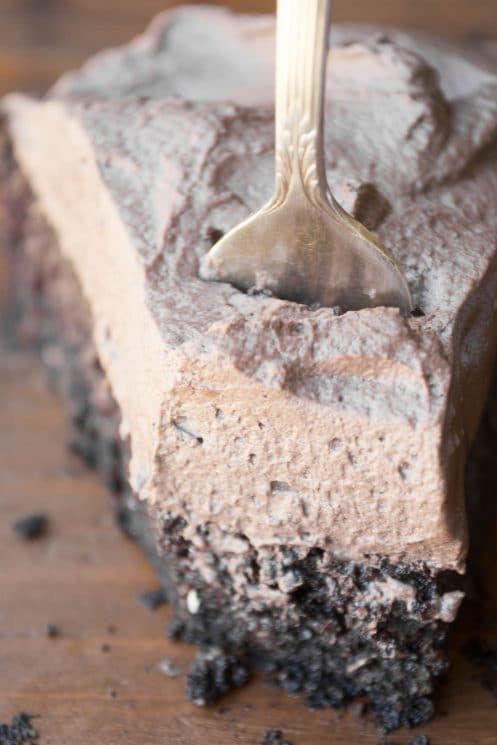 More gluten-free desserts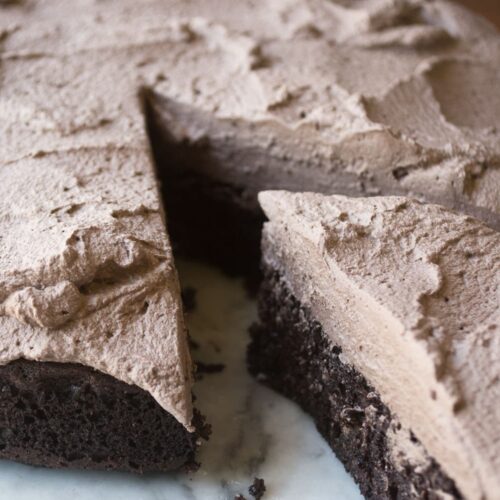 2 Cup Quinoa, cooked1/3 Cup milk4th big Eggs1/2 Cup Butter, unsalted1 teaspoon Vanilla extract1 Cup sugar1/2 Cup Cocoa powder, unsweetened1 1/2 teaspoon baking powder1/2 teaspoon Baking soda1/2 teaspoon Salt-
Whipped frosting
1 Cup fat whipped cream2 tablespoon Cocoa powder, unsweetened2 tablespoon powdered sugar
Preheat the oven to 350 degrees. Sprinkle a 9 inch non-stick cake pan with a round of parchment paper on the bottom and line it out.
Add the quinoa, milk, eggs, melted butter, and vanilla to the bowl of a metal blade food processor. The pulse is combined and then processed until it is smooth. This only takes about 30 seconds.
Add the sugar, half a cup of cocoa powder, baking powder, soda and salt to the bowl and mix well.
Place in the prepared pan and bake for about 40-42 minutes until a toothpick comes out without a wet dough sticking to it. Remember that if your pan is of different dimensions, your cooking time will vary.
Let the cake cool on a wire rack for about 15 minutes before removing it from the pan. Be careful when turning the cake over as it will be tender. I like to put a plate over the pan and then carefully turn them over together.
When the cake has cooled completely, freeze.
To make the frosting, whip the cream until it starts to thicken, then add the sifted powdered sugar (powdered sugar) and the remaining 2 tablespoons of cocoa powder. Continue beating until thick and spreadable. Do not exaggerate!
Calories: 339kcal | Carbohydrates: 40G | Protein: 6thG | Fat: 18thG | Saturated fatty acids: 10G | Cholesterol: 105mg | Sodium: 257mg | Fiber: 2G | Sugar: 28G