Golden Crusted Brussels Sprouts: 5 Methods
I thought I'd share my favorite Brussels sprouts recipe with you. It's a slightly expanded version of the version I included in Super Natural Cooking, but to be honest, it's a bit difficult to call it a recipe. It involves one pan, less than five ingredients, about ten minutes of your time, and minimal culinary skills.
What makes this Brussels sprouts recipe so special? It is so easy. And at the end, you get bright green, tender Brussels sprouts that go deep golden and crispy where they touch the pan. I then lightly dust them with cheese and serve. At this time of year it is not uncommon for us to cook them like this two or three times a week. Even if you're a sprout skeptic, this golden crust version has the ability to turn the most vigilant Brussels sprouts jokes around.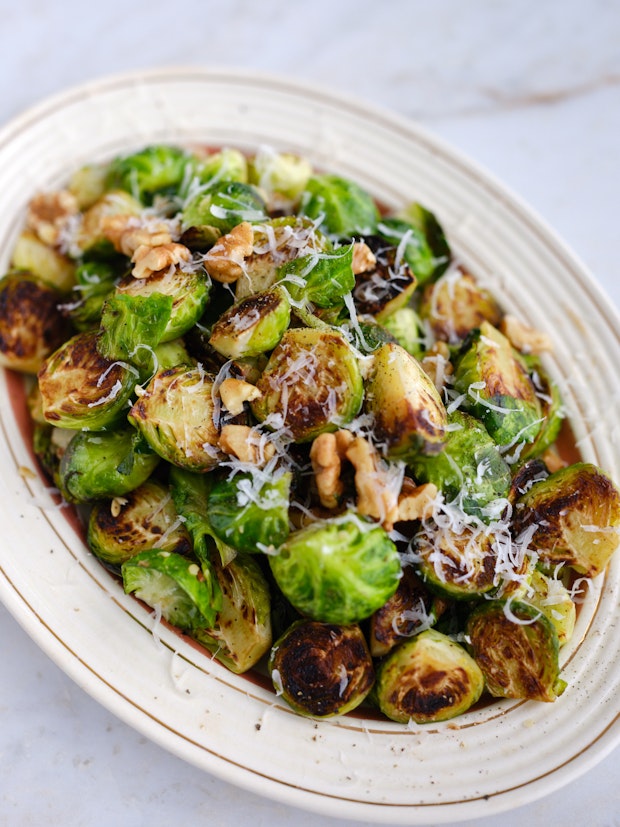 Look what
A few shopping tips before you start, look for Brussels sprouts that are small and tightly closed. The little ones cook through quickly. Larger ones tend to tan on the outside long before the insides are done. If the weather is mild I finish them with a lighter, salty cheese like parmesan. When it's stormy and cold I opt for a heavier, melting cheese, like regular or smoked Gouda (or Gruyere). Or (!), I'll skip the cheese altogether and add a simple final shower with chopped nuts.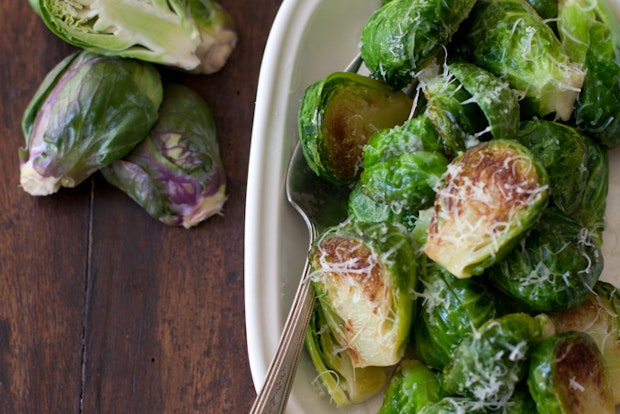 Cooking Brussels sprouts:
My most important quick pro tip? Try not to over-cook the sprouts and eat them as soon as they come off the stove if possible. You are so great that way!
Favorite variations
Many of you have done these over the years and have mentioned variations in the comments. I wanted to highlight a few!
Gina commented, "I made a riff over this one tonight that you might enjoy too. I used butter in the pan instead of olive oil and added about a teaspoon of horseradish at the end and tossed the sprouts in with the heat in front of me with parmesan sprinkled. I had a similar dish at Coppa's in Boston once, and I kept thinking about it. "
Rachel brought the turmeric angle, "added a little turmeric to my salt and pepper, which brought in a nice taste and a subtle golden sheen."
And Jessa brings the citrus fruits. "I can only roast them with roasted walnuts and then beat them with a little lemon juice, parmesan and walnut oil at the end. I also like to peel orange peel on top."
And the last two ideas ?! In the last minute of cooking, add two finely chopped cloves of garlic, for all the garlic lovers out there. Or toss 2 tablespoons of your favorite pesto in the pan once you've finished cooking the Brussels sprouts.
I also love Brussels sprouts in this caramelized tofu. This shredded Brussels sprouts with apple recipe is also A +.