Homemade applesauce is rich, creamy and tastes like eating a warm baked apple. Take your kids apple picking and then make a batch of this delicious long-time kid favorite staple.
What Apples Are Best for Homemade Applesauce
You can make applesauce out of any variety of apple – but if you have the choice, choose apples that are softer because they will cook down much faster. I also like apples that are sweeter and so I don't need to add any added sweeteners. You can also combine varieties for a really delicious flavor. These are my favorite apples for making applesauce:
Golden DeliciousFujiGravensteinMcIntoshGalaBraeburn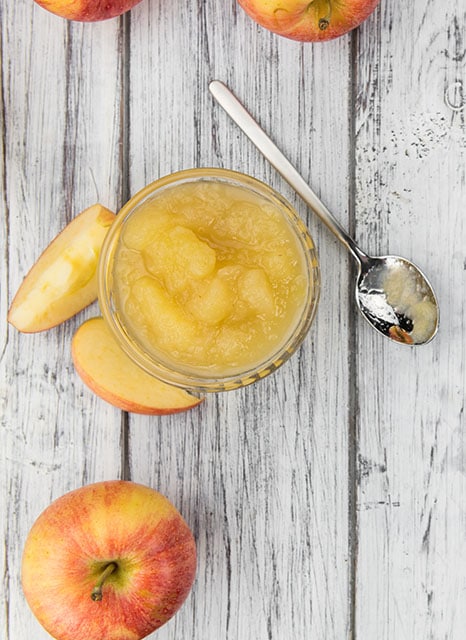 How to Make Homemade Applesauce
Homemade applesauce is surprisingly easy. The most difficult part is coring and chopping the apples. You can leave the peel on, depending on what texture you like your applesauce to be. I bought an apple corer/peeler years ago and it is still one of my favorite small appliances. It makes peeling and coring apples almost fun! This is the one that I have.
After your apples are chopped and cored, combine with water and cinnamon. Depending on the type of apples you are using, you may want to add just a bit of sweetener. Cook your apples for 15-20 minutes until they are soft.
This next part will determine the texture of your applesauce. You can leave it chunky and just mash with a potato masher or fork. If you like it smooth, transfer the apple mixture to a food processor and process until you reach the texture you want.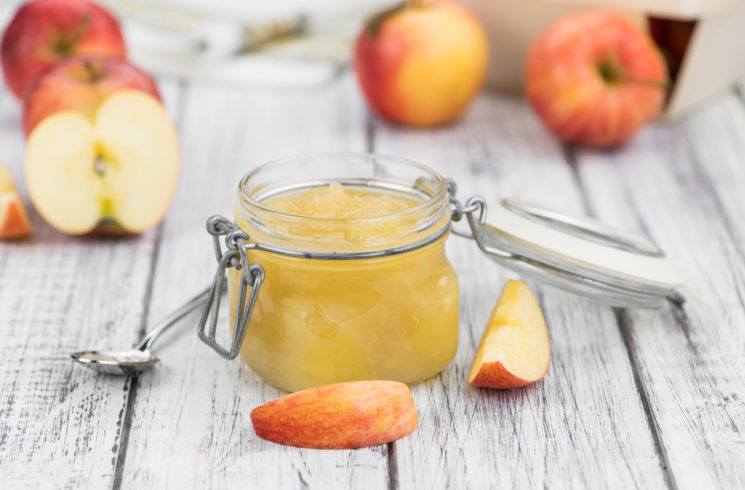 How Long Does Homemade Applesauce Last?
You can store applesauce in the fridge for 7-10 days and it will still taste as fresh as the day you made it! Just store in an airtight container. I prefer to store mine in a glass jar because I feel like it doesn't absorb any of the other 'fridge flavors' through the glass.
Can you Freeze Homemade Applesauce?
Applesauce freezes really well. Once it is cooked, let it cool and then place in an airtight container. Another way we like to freeze applesauce is to put it in popsicle molds and make apple-pops. Frozen applesauce is really yummy because when it starts to thaw, it is like eating a slushy.
Check out our post on making Applesauce in the Slow Cooker!
4 medium apples3/4 cup water1 teaspoon cinnamon
Wash, core, and chop apples. You can leave the peel on if you want.
In a saucepan, combine apples, water, and cinnamon.
Cover and cook over medium heat for 15 to 20 minutes or until apples are soft.
Allow to cool, then mash with a fork or potato masher. For a smoother texture, transfer apple mixture to a food processor and pulse until the desired consistency is reached.
Serve warm, or chill until ready to serve.
Calories: 96kcal | Carbohydrates: 26g | Protein: 1g | Sodium: 4mg | Fiber: 5g | Sugar: 19g