How to make pesto like an Italian grandmother
If you've ever tried pesto in Italy, you know the pesto just isn't the same here in the US. I learned how to make pesto from a real Italian grandmother last week and now I understand the difference and what makes this pesto recipe so special.
A special pesto
My friend Francesca travels from her small town near Genoa's pesto epicenter to San Francisco once or twice a year – this time (luckily for us) she brought her mother and two year old son Mattia with her. Her mom makes a beautiful pesto (and perfectly light potato gnocchi with it) and offered me and my friend Jen to show me how it's made. I have to say it was a complete game changer. If you love pesto you really have to try this. Their technique leads to an incredibly special pesto.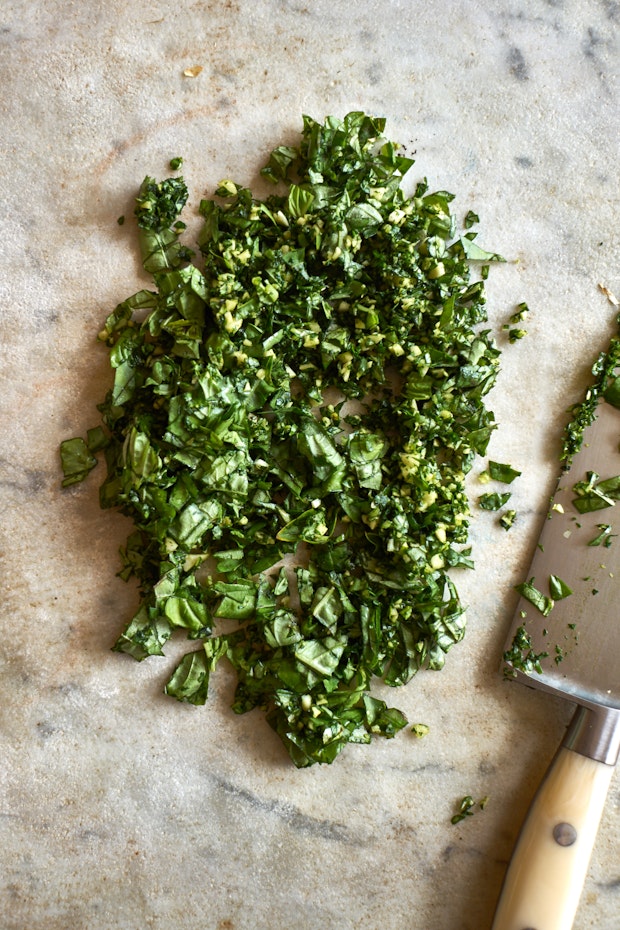 Chop by hand or with a mixer?
Most of the pesto you encounter here in the US is different for several reasons. First off, most of what you see is made by machine, usually a food processor or hand blender. This also applies if it is homemade. Don't get me wrong, it usually tastes great, but because the ingredients are not chopped by hand, it creates a texture that is more like a wet paste with little or no definition between the ingredients.
During my class, I quickly realized the importance of chopping all the ingredients by hand, not mixing, as this will prevent the ingredients from turning into a fully homogenized emulsion or paste. If you serve a pasta with a pesto that has been chopped by hand, the tiny basil stains will separate in places from the olive oil. You get definition between the ingredients, and light flavors burst in a way that they don't when mixed into one.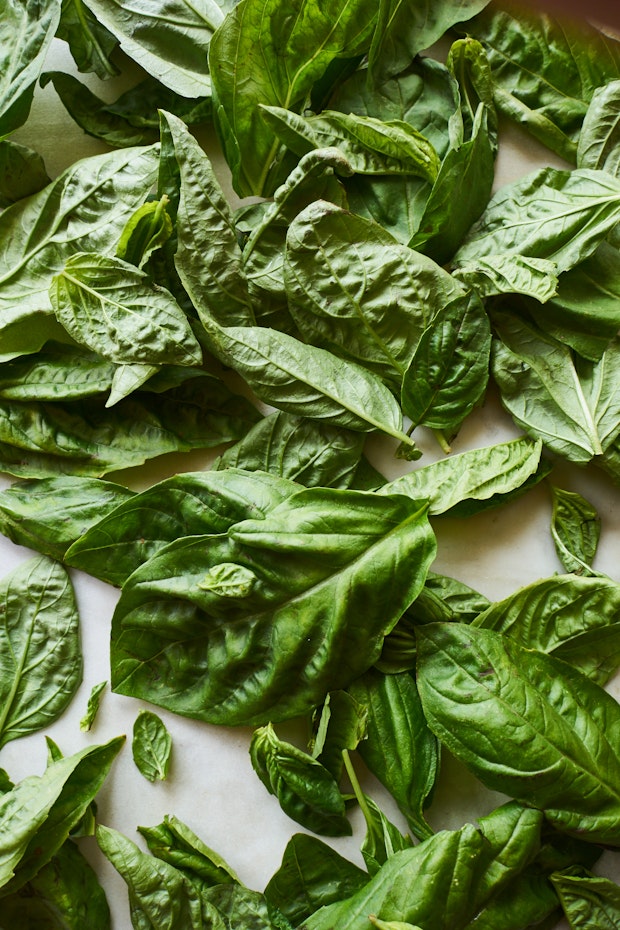 Choosing the right basil
Another thing, Genovese pesto is famous in part because it's often made from young, tiny basil leaves. For us non-Italians, it's easy to find Genoese basil in shops and farmers markets, especially in summer, but it probably wasn't picked young. I wouldn't worry if you just hand chop all the ingredients you will see a huge change in the personality of your pesto. If you grow your own basil, I'll be jealous.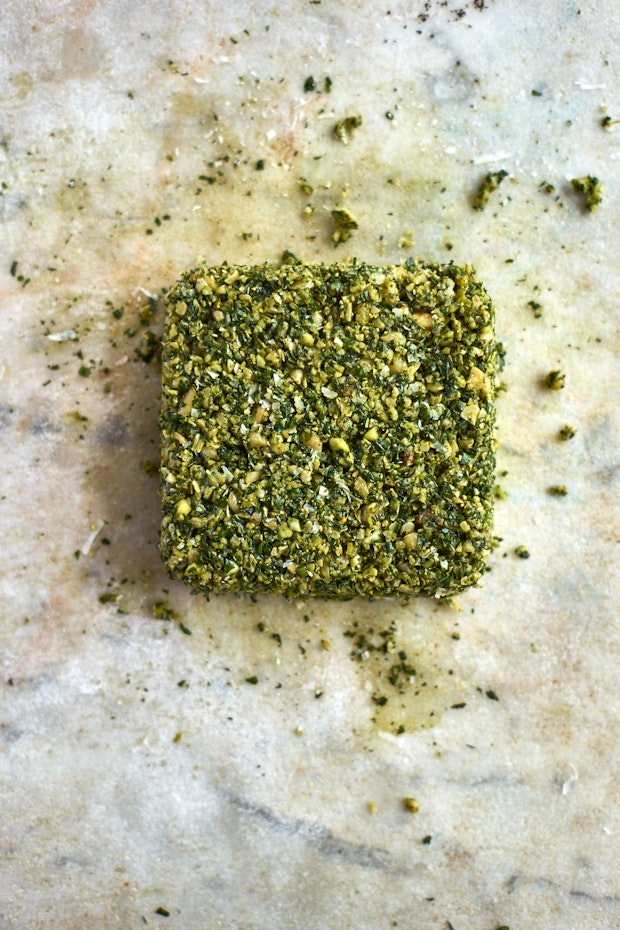 The technology
If you are serious about making a good pesto using this technique, you can get a good, sharp (preferably large, single blade) mezzaluna or knife – you will need it. It takes about twenty minutes to chop the ingredients. Whatever you use to chop it, make sure it has a sharp blade or the basil will turn dark. Once you've chopped your ingredients, shape them into a cake, as shown in the picture above. You add olive oil to this cake and it's magic – downstairs.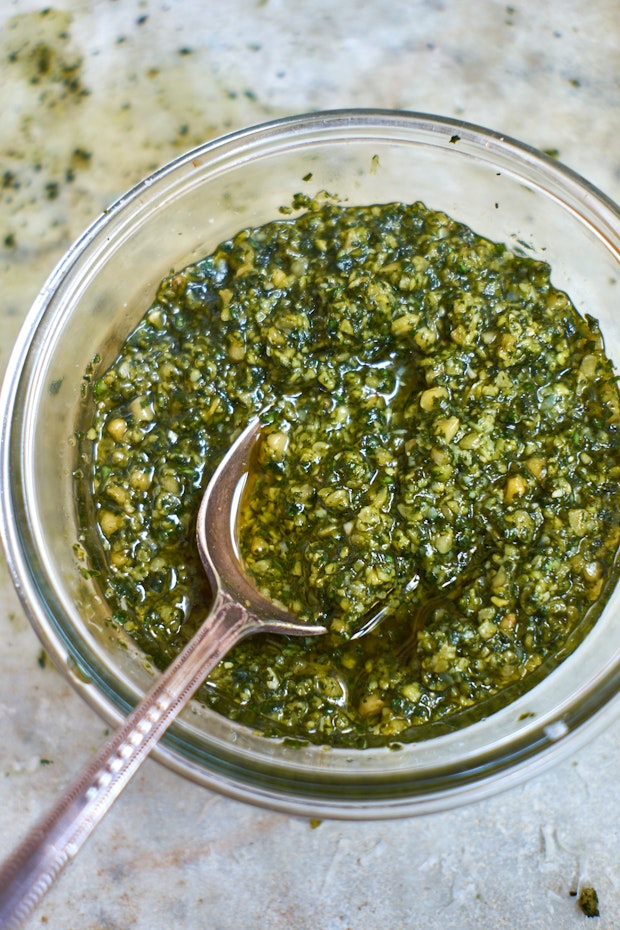 How to store pesto
Store any pesto you might be using for the next day or two under a thin film of olive oil, refrigerated. You can also freeze it in snack baggies. Thaw and toss it with gnocchi, ravioli, or whatever favorite pasta you like – and a good dash of pasta water!
Pesto variations
Don't limit yourself to basil pesto. You can experiment with other herbs as well. You can add anything from parsley to marjoram (a favorite!), Mint to fresh oregano to your basil base. Or leave out the basil entirely! I like to occasionally add citrus peel or switch the type of nuts I use – toasted almonds and walnuts are favorites.
Let me know if you try this and what you think! Use your lovely fresh pesto with this gnocchi recipe. Or this simple homemade pasta, bruschetta or cavatelli. Tutto bene!
MY NEWSLETTER + EBOOK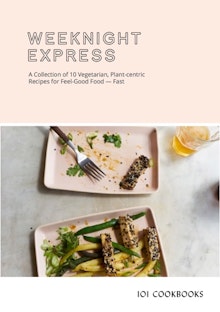 Sign up for my weekly ad-free newsletter with recipes, inspiration, what I read / look / buy.
(You will receive a link for a free PDF e-book with 10 recipes)