Loaded wholesome no bake cookies
Loaded Healthy No-Bake Cookies – Easy, quick, and delicious, these no-bake cookies only last 10 minutes and are loaded with nutrient-rich ingredients!
Sweet and healthy snack idea
Having decent snacks on hand is an essential part of increasing productivity and keeping the kids energized and their minds working. No baked snacks are the perfect solution as they barely take time to whip and can be customized to suit different taste buds to keep things creative!
One of my all time favorite snacks that I make weekly are mine Chia seed energy bites They're a healthy, sweet snack that packs up nutrition and satisfies hunger pangs between meals. Since they don't bake, they're quick to mix and have on hand.
Growing up, one of my favorite cookies was oat cookies with a mix of chocolate chips – white, dark, milk, and peanut butter. I decided to recreate this in a delicious and easy no-bake form for a quick and satisfying snack for my kids!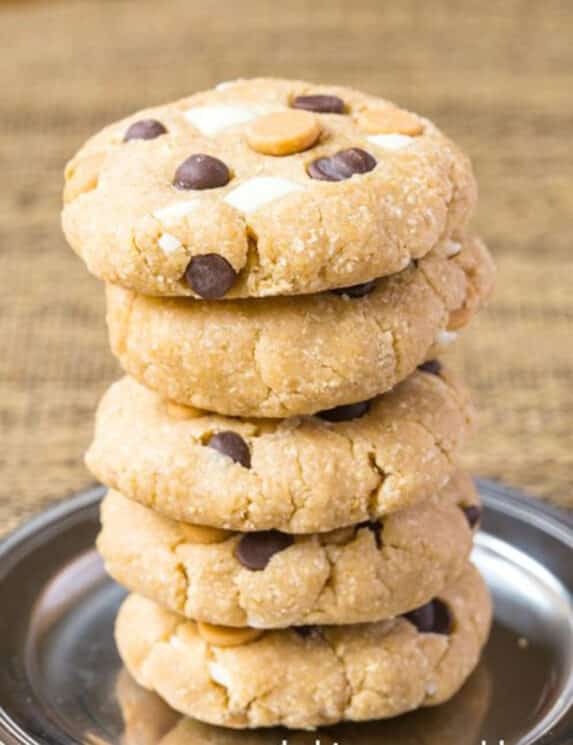 How to make loaded no-bake cookies
These loaded no-bake cookies are a winner! The base is made with oatmeal, nut butter, maple syrup, and some milk to form together.
For those with nut allergies, this works very well with sunflower butter or soy butter. If you don't want to use maple syrup, you can also use brown rice syrup. It's a little harder to find in stores though. You can also use honey or some other sticky sweetener. Make sure you increase it by 1-2 tablespoons.
Instead of putting the chocolate pieces in the batter, I like to press them onto the cookies after they have been molded. It gives it a fun look, and it is also fun for kids to make themselves and customize their cookie.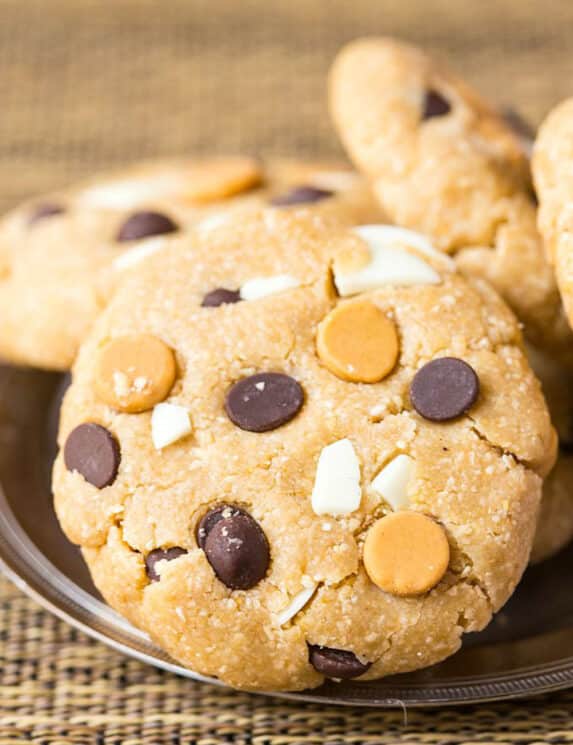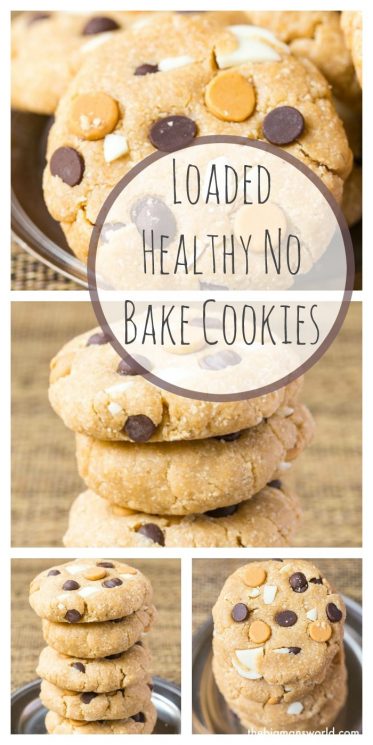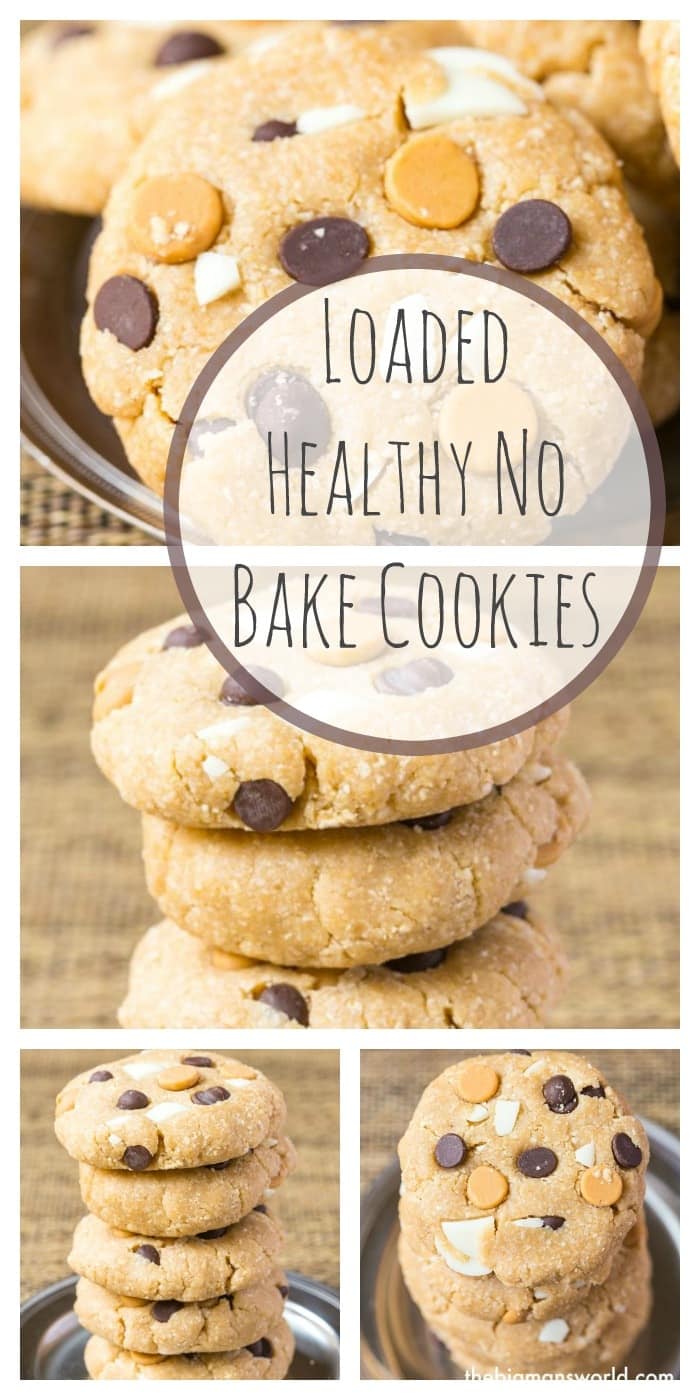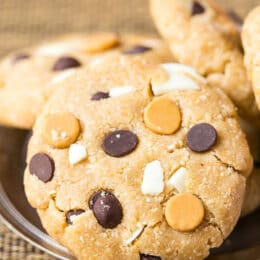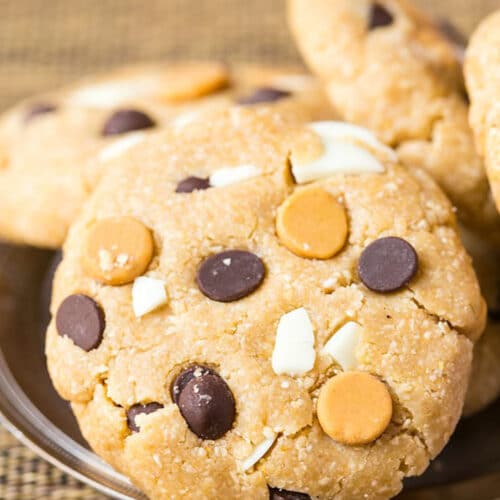 1 Cup Flour1/2 Cup Oat bran1/8 teaspoon sea-salt1/2 Cup Nut butter1/4 Cup Maple syrup, pure can also use brown rice syrup or honey1 tablespoon milk combine dough as needed1/4 Cup Chocolate pieces Milk, dark, white, or butterscotch
Line a large plate or baking sheet with parchment paper and set aside.
Mix the flour, oat bran and sea salt in a large mixing bowl and mix well.
In a small microwaveable bowl, combine the nut butter and maple syrup and heat until melted.
Pour the liquid mixture into the flour mixture and mix very well. If the mixture is too crumbly, add a tablespoon of milk at a time until a thick batter forms. If the mixture is too moist, add more flour until a thick batter forms.
Shape into small balls and press onto the lined plate and press into a biscuit mold. Add the chocolate chip mixture (I used dark, milk, and white chips) and press firmly into the cookies to set them in place. Store in the refrigerator for at least 30 minutes to set.
Calories: 71kcal | Carbohydrates: 10G | Protein: 2G | Fat: 4thG | Saturated fatty acids: 1G | Sodium: 13mg | Fiber: 1G | Sugar: 4thG