These delicious Mini Turkey Cheese Balls are made with cream cheese, cheddar cheese, sweet dried cranberries, rolled in pecans and decorated to look like a turkey! Make these for a thanksgiving appetizer or a fun fall event!
How to make mini cheese balls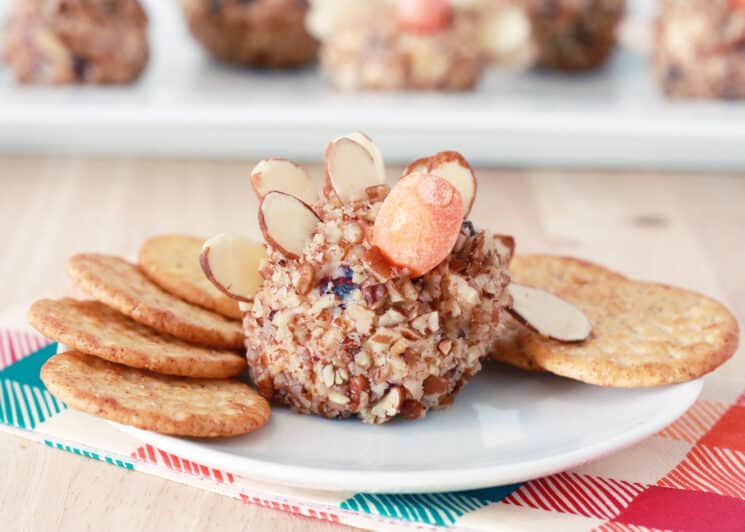 These mini cheese balls are so easy to make! I found the easiest way to do this is to mix up all of the ingredients and then roll them out into a log shape. Then cut 6 even pieces into slices and roll them into small balls.
Roll each ball in the chopped pecans. You should place the almonds and carrots in the cheese ball while the cheese is still soft. I used baby carrots for these cute little turkeys because I like the rounded look at the end of the carrot. To make it easier to slide the carrots into the cheese ball, I took a peeler and shaved the carrot until it ended up with a pointed shape. After you've put them all together, put them in the refrigerator until you're ready to serve. If you like softer cheese, you can lay it out 30 minutes before serving.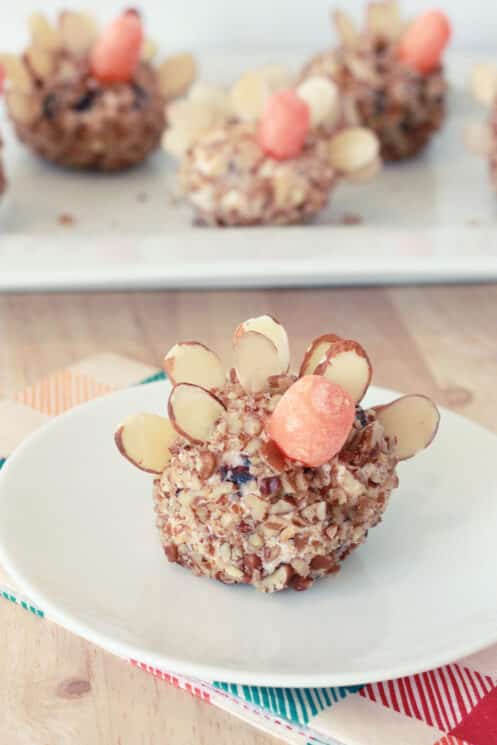 Can mini cheese balls be made in advance?
This cheeseball recipe is the perfect starter to prepare ahead of time. They keep incredibly well in the refrigerator and actually taste better when the flavors combine longer.
If you want the nuts to be really crispy, hold the cheese balls in the pecans and add the almonds until they are closer to when you want to serve them. You can shape the balls in advance and pull them out 30 minutes before adding the nuts, so the cheese is just soft enough for the nuts to easily stick to it.
The great thing about these mini cheese balls is that they are small enough for your kids to handle easily. You can instruct them to roll them in the pecans and add the almonds and carrot nose. It is actually a really fun eating activity for her!
Hope you enjoy this cute Mini Turkey Cheese Balls appetizer for your kids!
I would appreciate your feedback! If you make this recipe, do you leave a comment and star rating below? Your feedback will be very helpful to SHK parents and other readers considering creating these. Thank you very much!
8th Ounces cream cheese softens3/4 Cup Cheddar cheese, crushed1/2 Cup dried cranberries, chopped1/2 Cup Pecans, finely chopped6 everyone Baby carrots1/2 Cup sliced ​​almonds
In a medium bowl, combine cream cheese, cheddar cheese, and dried cranberries.
Shape the mixture into a roll and cut into 6 even slices. Shape each disc into a round ball.
Roll each ball in chopped pecans.
Lightly press sliced ​​almonds into each ball to make "turkey feathers".
Using a vegetable peeler, shave the bottom half of each carrot to a point. Press in the front of each ball to form the "turkey nose".
Serve with crackers, celery sticks and / or carrot sticks and enjoy!
PIN THIS RECIPE LATER