More healthy vacation pet meals
Muddy Buddies or Puppy Chow? Whatever you call it, this Healthy Holiday Puppy Chow is a popular vacation treat! Our version reduces sugar and butter for a treat you can feel better about.
What is puppy food?
Puppy Chow is a popular snack made from chex, chocolate chips, and peanut butter, tossed with powdered sugar. It's a simple treat that kids love! We love that there are only a handful of ingredients that we normally have on hand. The original recipe contains a ton of sugar. In our version, we've cut the sugar a lot and used half the normal amount of butter – but it's just as sweet and delicious! The addition of sprinkles gives it the perfect holiday flair.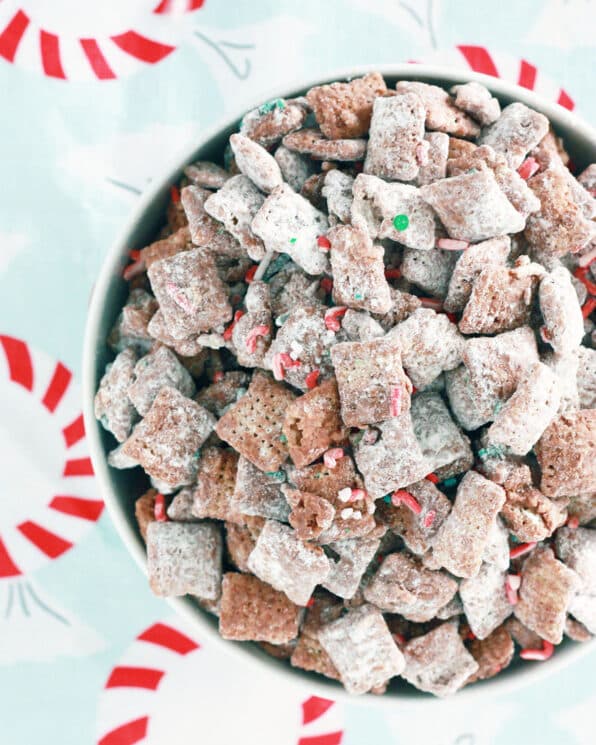 How to make puppy food
This recipe is so simple that my kids can almost do it on their own! Melt the chocolate chips, peanut butter and butter and drizzle over the muesli. Stir gently to coat, then place in a ziplock bag with the peanut butter and shake gently. That's it! We added some sprinkles to give it some holiday flair. These are completely optional!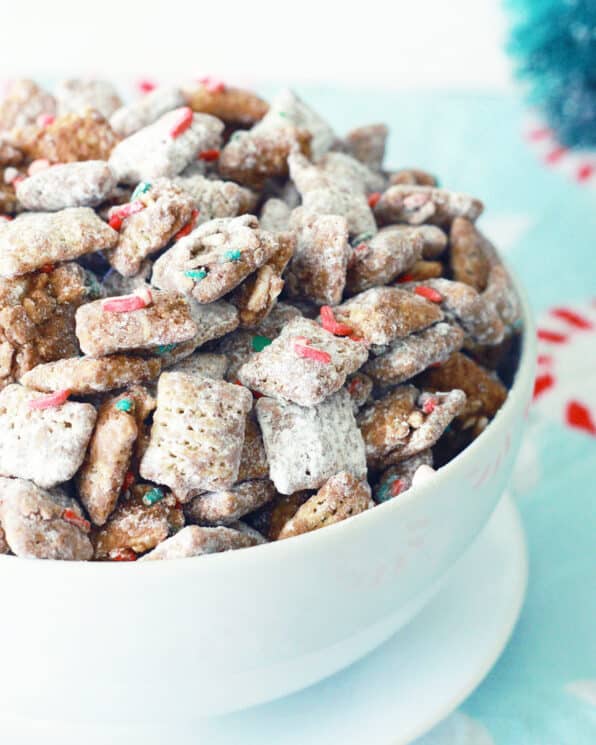 Can You Make Puppy Chow Without Peanut Butter?
While most versions of Puppy Chow contain peanut butter, you can substitute peanut butter for sunbutter to make it allergy friendly! It will taste different from the peanut butter version – but it will still be super tasty. It's a great choice if you're trying to work with a peanut allergy.
How much fun is it? We tried adding some peppermint extract to a batch. If you love peppermint it's a great variation! Swap the streusel for crushed candy canes to add even more flavor to the peppermint. This makes a great gift tied in a cellophane bag or in a jar with a Christmas bow.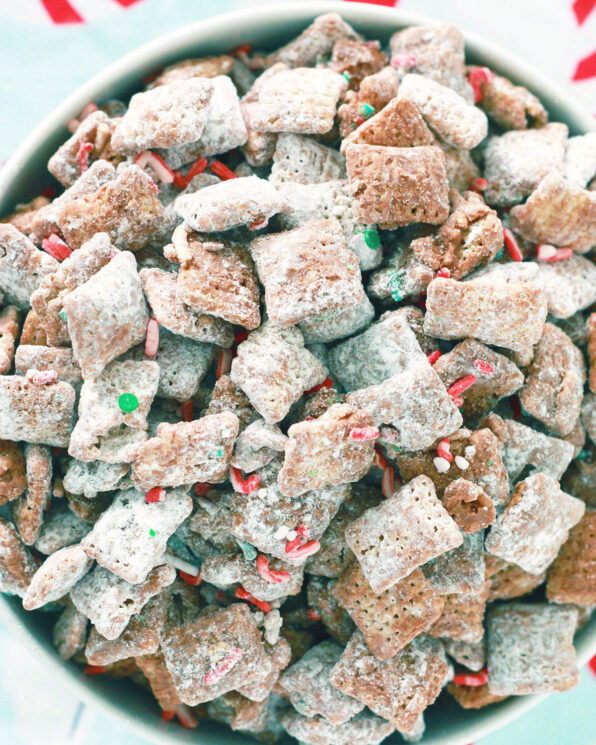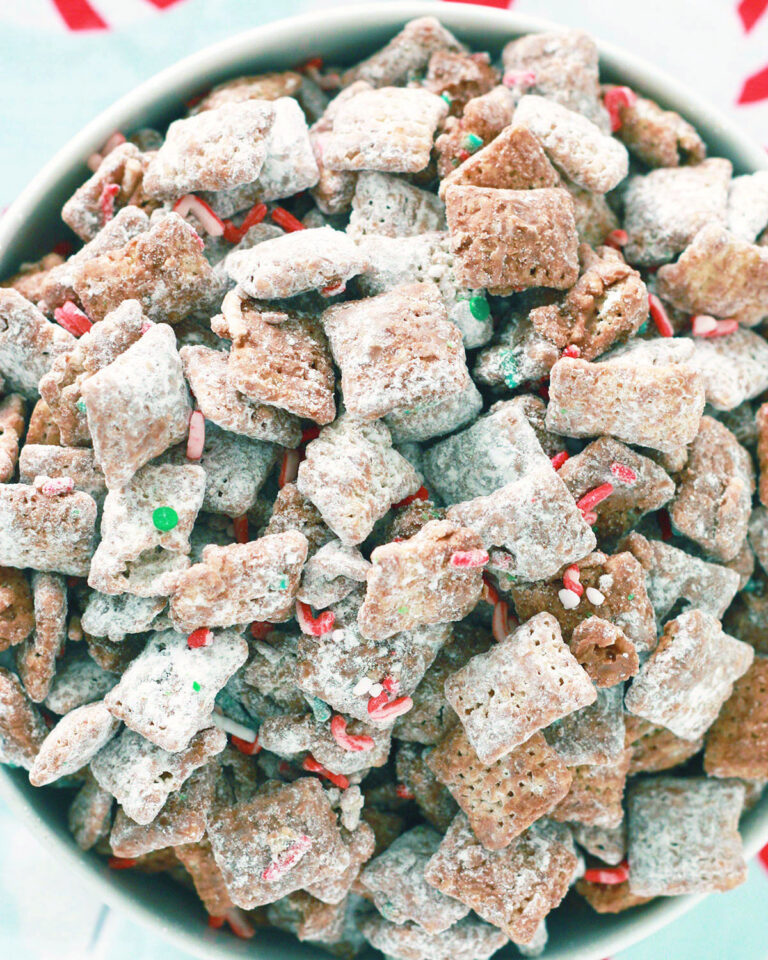 I would love your feedback! If you're making this recipe for a healthier holiday puppy food, do you leave a comment and a star rating below? Your feedback will be very helpful to SHK parents and other readers who are considering creating the recipe. Many Thanks!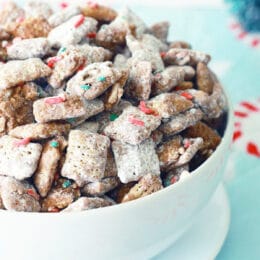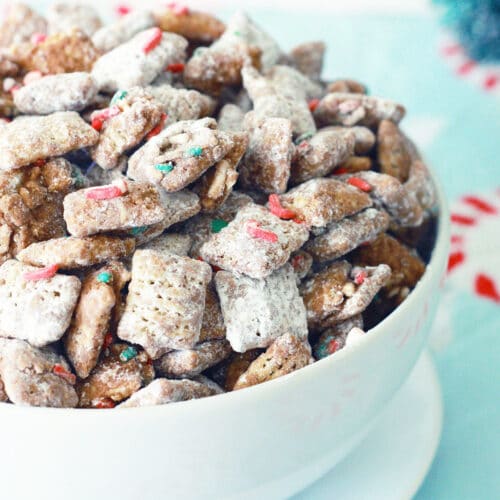 9 cups Rice Chex Granola1 Cup Chocolate chips1/2 Cup peanut butter Naturally2 tablespoon butter1 TL vanilla2 tablespoon Holiday scatters1/2 Cup powdered sugar
Put the cereal in a large bowl.
Microwave the chocolate chips, peanut butter, and butter for 30 seconds until melted. You can also melt on the stove over low heat. Stir well to make sure everything is combined, then add the vanilla.
Pour the chocolate mixture on top of the granola and stir gently until coated. Throw in sprinkles as you add them.
Place the cereal in a large ZipLoc bag along with the powdered sugar and gently shake until coated.
Pour the mixture into a serving bowl. Add a few more sprinkles when they fall off. Serve and enjoy!
* Optional: add 1/2 teaspoon of peppermint extract with the vanilla extract for a mint note! You could even swap the sprinkles for crushed candy canes.