This Peach Crisp Bread is a delicious way to enjoy juicy Summer peaches. It is loaded with sweet cinnamon and juicy peaches making it an incredibly moist bread. Puree your peaches or leave them diced – whatever your kids prefer!
I don't think there is any food that makes my family happier than peaches!  There is only a short period of time during the year that we buy them, and we look forward to those days with great anticipation.  We usually eat all our peaches fresh because we go through them so fast. But sometimes we like to enjoy our peaches in different ways, like this amazing Peach Crisp Bread!
Fruit: Puree or Dice?
Kids can definitely have issues with food textures. Sometimes cooked fruit can have a mushy texture that isn't appealing to kids (an adults!). For this recipe, you can puree all of the peaches, or puree some and leave some diced. As I did with the cauliflower pancakes, and our carrot muffins, we pureed the peaches.  It's not that we are "hiding" fruits or vegetables, because my kids knew there were peaches in the bread… it's more of a texture issue for certain kids who don't like chunky things in their food.
The peach flavor will be more pronounced if you leave some of them diced vs. pureeing all of them.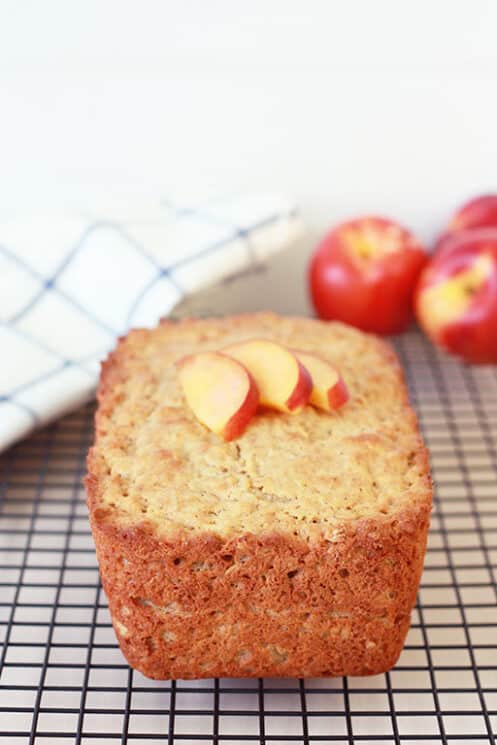 My kids were waiting by the oven for this bread.  It smelled so good!  Sometimes I like to use the mini loaf pans (only needs 20-30 minutes to bake through), then it comes out quicker, and makes a nice size for snacking.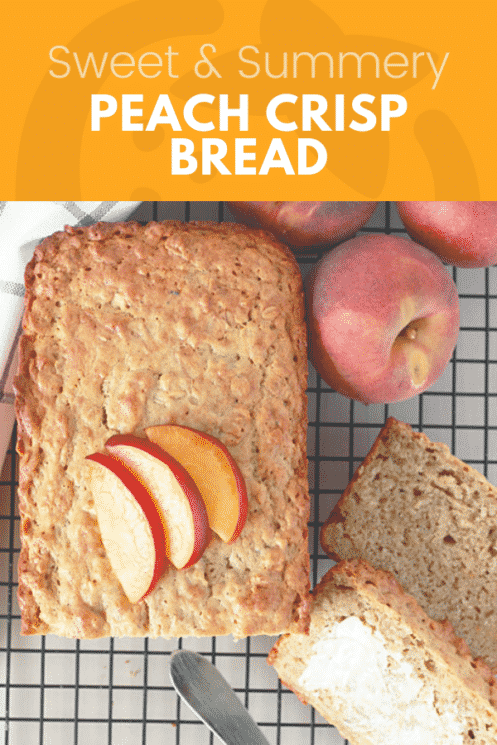 1 1/4 cups white whole wheat flour1/2 cup oats3 tbsp sugar1 tsp baking powder1 tsp salt1/2 tsp baking soda1/2 tsp cinnamon1/2 tsp nutmeg1 cup peaches diced2 large eggs1/2 cup coconut oil, melted1/2 cup Greek yogurt, plain1 tsp vanilla
Combine all dry ingredients (flour, oats, sugar, baking powder, salt, baking soda, cinnamon, and nutmeg). 
In a blender, combine all wet ingredients (peaches, eggs, oil, yogurt, and vanilla).  Blend until smooth. If you want to leave some peaches diced, don't add them to your blender. Add them in the next step.
Fold into dry ingredients and mix just until dry ingredients are moistened.  Pour into a prepared bread loaf pan. 
Bake at 350 degrees for 45-60 minutes, or until center is cooked through.