Pumpkin Apple Muffins are a delicious blend of fall flavors in a healthy fruit and veggie filled muffin!
What are the Best Apples for Muffins?
When you are adding apples to a muffin, you need to keep in mind that texture is really important. Good baking apples should hold their shape and not turn into mush. The flavor of the apple will depend on what you are making. If your muffin is less sweet, then a sweeter variety of apple like golden delicious might be a good choice. The opposite is also true – when you are making a sweet muffin, then a Granny Smith with a very tart flavor would be a delicious contrast in flavor. Here is a list of apples that we like to use in muffins:
BraeburnCameoFujiGalaGolden DeliciousGranny SmithHoneycrispJonagoldJonathanMelrosePink Lady
Here are a few tips for enjoying great apples:
Pick: Select apples that are firm to the touch and free of bruises.Store: To maintain freshness, apples should be stored in the refrigerator in a plastic bag.Prep: Thoroughly wash apples in water before using. Apples can be enjoyed in salads, smoothies, and breads.
Health Benefits of Apples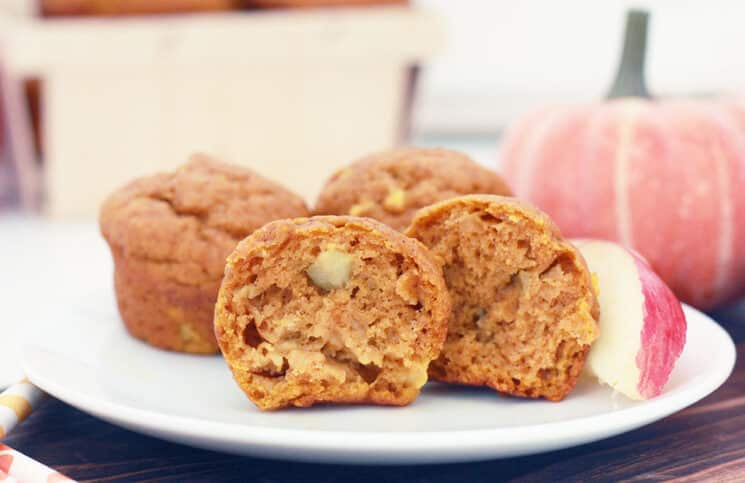 Apples are a great thing to add to your kids menu! An apple a day, really might keep the doctor away (although, I'm not sure that anyone has ever tried it!) These are some of the health benefits to your kids that you might find interesting:
A lot of the nutrition in an apple is in the peel. So make sure you keep the peel on when you give your kids apples! Apples are great for your kid's digestive health because not only do they have a lot of fiber, but they have two different kinds! Apples contain both soluble and insoluble fiber. Together they help support regular bowel movements for your kids by softening and bulking up their stool and helping it move along the intestines which helps prevent constipation. Apples contain pectin which is a type of fiber that acts as a prebiotic. This means it feeds the good bacteria in your gut.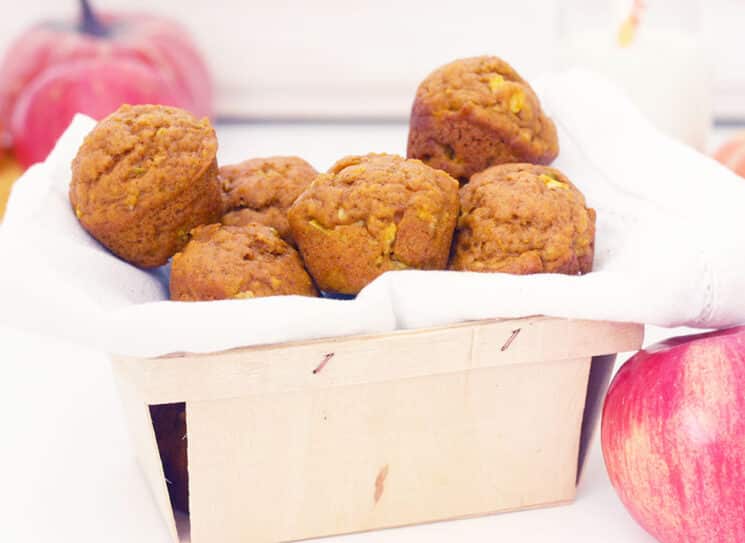 How to Make Your Own Pumpkin Puree
Did you know that you can make your own pumpkin puree rather than buy it?? We have an entire post on how to make your own pumpkin puree in 3 Simple Steps!  We've got more pumpkin recipes for you also if you are the pumpkin loving type:
OUR BEST PUMPKIN RECIPES: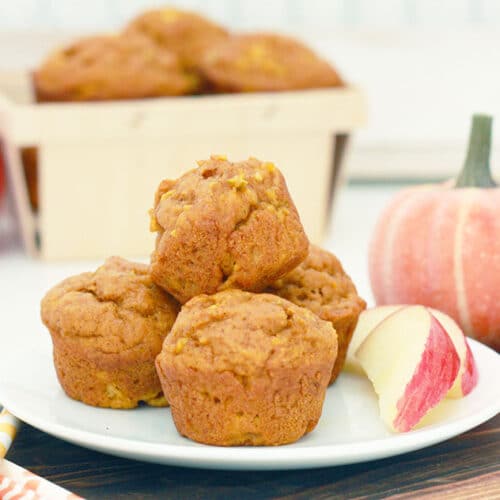 2 cup flour3/4 cup sugar1 tablespoon pumpkin pie spice1 teaspoon baking soda1 teaspoon baking powder1/2 tsp salt2 large eggs15 ounce pumpkin, canned1/2 cup oil1 cup apple, chopped
Preheat oven to 350 degrees F.
Chop apples (will need 1 cup).
Mix flour, sugar, pumpkin spice, baking soda, baking powder and salt in a large mixing bowl. Set aside.
Beat eggs in separate bowl. Mix in pumpkin puree and oil.
Fold wet ingredients into dry ingredients until just combined. Do not overmix. Fold in chopped apple.
Line muffin pan with baking cups or spray each tin with cooking spray. Fill each muffin cup 3/4 full and bake 25-30 minutes, or until toothpick inserted in muffin comes out clean.
Calories: 170kcal | Carbohydrates: 24g | Protein: 3g | Fat: 8g | Saturated Fat: 1g | Cholesterol: 23mg | Sodium: 90mg | Fiber: 3g | Sugar: 11g