Creamy, soothing pumpkin soup makes a delicious and nutritious weekday meal! With just the right amount of sweetness and flavor, this recipe is one that you will turn to again and again.
In the fall our thoughts start with all things pumpkin! And pumpkin soup is one of our favorite ways to enjoy it. There's just something comforting and satisfying about a warm bowl of this soup! Convenient canned pumpkin is used in this recipe. So it really is a recipe to enjoy any time of the year.
Is pumpkin puree the same as canned pumpkin?
Canned pumpkin and just canned pumpkin puree, and they can be used interchangeably! Just make sure you're using canned pumpkin and not a pumpkin pie filling that has sugar and spices added as well. We love the convenience of canned pumpkin, which is why we use it most often in pumpkin recipes. However, you can take full advantage of all of the pumpkin you can find so quickly this time of year to make your own pumpkin puree for this soup!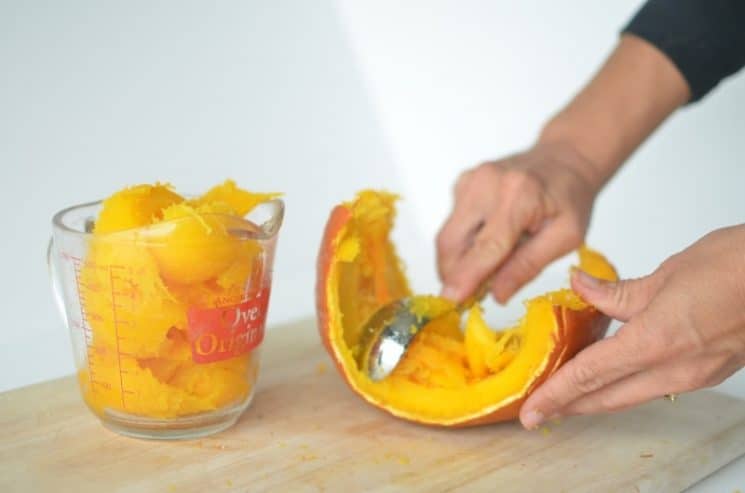 How to make pumpkin soup
One of the best things about pumpkin soup is how easy it is to make! Most of the work is chopping the vegetables. The hob takes it from there! Once the vegetables are nice and tender and have some time to cook, mix them together to make sure you have a super creamy soup. If you have a hand blender, that works great too.
Is Pumpkin Soup Healthy?
Pumpkin soup is a powerhouse of vitamins and nutrients! It's a good source of Vitamin A and Vitamin C, which can boost your immune system. It's also a good source of fiber! We like to use condensed milk in this recipe as it adds to the creamy texture and we can have it on hand. But you can make this recipe vegan by using almond or coconut milk instead.
Is Pumpkin Soup Kid Friendly?
My kids love this soup! The taste is super mild and it's nice and creamy – no vegetables to pick! I like to serve it with bread – this soup is perfect for dipping. And we all know how much kids love that!
2 tablespoon Butter, unsalted1 medium onion diced2 medium carrot chopped1 medium Apple peeled and chopped2 Cup Pumpkin, canned3 Cup Vegetable broth1/2 teaspoon nutmeg1/2 teaspoon Pumpkin pie spice1/2 teaspoon cinnamon1 teaspoon sugar1/4 teaspoon Salt-1/4 teaspoon black pepper, ground1 Cup Condensed milk
Topping
1/4 Cup Whipped cream1/2 Cup Roasted pumpkin seeds
Melt butter in a soup pot over medium heat and fry onion, carrot and apple for approx. 8 to 10 minutes.
Add the pumpkin, vegetable stock and spices and simmer for 15 minutes. Then add the milk and simmer for another 5 minutes. If necessary, lower the heat to prevent it from boiling.
Pour the batches into a powerful blender (or use a hand blender) and blend everything smooth and creamy.
Season to taste with salt and pepper. Serve with a little cream and top with pumpkin seeds.
Calories: 394kcal | Carbohydrates: 63G | Protein: 9G | Fat: fifteenG | Saturated fatty acids: 9G | Cholesterol: 47mg | Sodium: 887mg | Fiber: 8thG | Sugar: 47G