A light and fluffy wholemeal pancake with fresh strawberries – and garnished too! These delicious strawberry pancakes are the perfect breakfast for special occasions.
How to make strawberry pancakes
We love to top our pancakes with fruit. Blueberries, bananas, peaches … you name it. This is the perfect way to add natural sugar to your breakfast and add nutritional value to this sometimes unhealthy breakfast option. But our favorite fruits are strawberries. I decided to make my pancake recipe even better by cutting some strawberries into cubes and adding them directly to the pancake batter. And they turned out delicious !!
I don't think there is a substitute for fresh strawberries, but if you can't get them, frozen strawberries would work in a pinch. Make sure to thaw and drain them before you cut them into cubes. Otherwise, there will be too much extra liquid in your dough.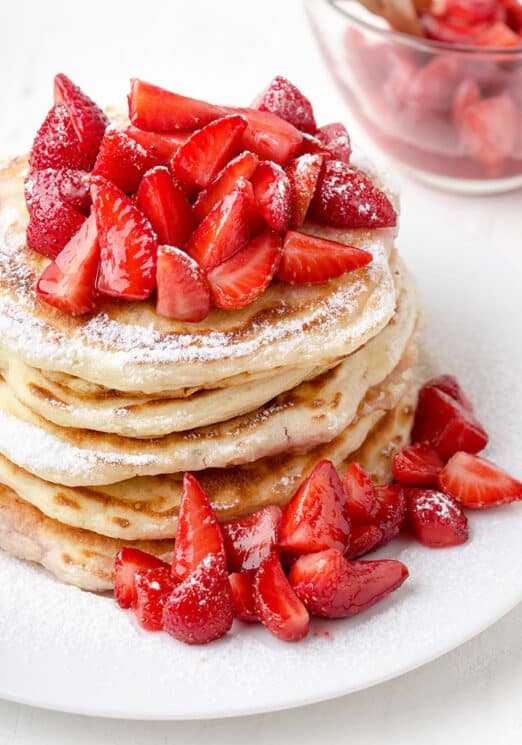 Of course, I couldn't just stop adding strawberries to my pancakes! I piled them up with fresh strawberries too! Test the sweetness of your berries – we sprinkled some maple syrup on them because our berries were a bit tart. But if your berries are super cute, you might not even have to!
What's the trick to making fluffy pancakes?
Fresh baking powder and a thick batter are our tricks for super fluffy pancakes! The batter should drip off your spoon in lumps. If it pours easily, your batter will be too thin and will result in flat pancakes. And make sure you don't mix too much! Just stir until the dry ingredients are incorporated. There will still be lumps of flour – that's okay! If you stir too much, you will get a tough pancake.
Are you looking for more delicious pancake recipes? Check out some of our favorites!
1 1/2 Cup Flour, whole wheat1 teaspoon baking powder1/2 teaspoon Salt-1 Cup milk2 large egg2 tablespoon Butter, unsalted2 teaspoon Vanilla extract1 tablespoon honey1 1/2 Cup Strawberries
Topping
1/4 Cup Maple syrup, pure2 cups Strawberries, chopped for the topping-out ceremony
In a large mixing bowl, whisk together the flour, baking powder, and salt.
In a separate bowl, whisk together the milk, eggs, melted butter, vanilla, and honey.
Gradually add dry ingredients to the wet ones and mix them after each addition until just combined.
Chop the strawberries and fold into the batter.
Spray a frying pan with cooking spray and heat it over medium heat.
Pour 1/4 cup full of batter onto the hot pan. Cook until bubbly, then flip and cook another minute until cooked through and golden brown.
Serve drizzled with maple syrup.
Calories: 369kcal | Carbohydrates: 58G | Protein: 12G | Fat: 12G | Saturated fatty acids: 6G | Cholesterol: 114mg | Sodium: 363mg | Fiber: 6G | Sugar: 23G